Do any of these statements sound familiar?
"I feel like I'm doing everything I can on Social Media, but I'm not seeing results."
"I'm active on social media."
"I'm blogging regularly."
"I'm using SEO best practices."
A recent survey from DM News confirms this is common. 46% of the executives surveyed, stated that a "lack of an effective strategy" was the biggest obstacle in achieving their inbound marketing goals.
So why is everyone struggling?
WHY, but in this article will show you HOW you can overcome this obstacle...and overcome it in the next 24 hours. Let's roll!
What is Strategy?
First, let's identify what strategy actually is. It really doesn't have to be that complicated. Strategy is simply a plan of action designed to achieve an expected goal. So, we need a goal to get started. For the purpose of this article, let's say that our goal is to generate 50 qualified leads per month for the sales team.
A worthy goal.
Now, we need a plan of action that will get us there.
Note: You may have a different inbound marketing goal, so just apply this same framework in order to backtrack from your goal, to an activity plan.
Identify Audience
If we're going to generate 50 qualified leads per month for the sales team, we need to define a "quality lead". Let's pretend we're a software company that provides project management software for contractors like roofers, electricians, plumbers, etc. The sales team says that if they can get a Demo Request, they consider that a quality lead.
Okay, so now we've got an audience and we know what a quality lead is. We're getting closer to being able to build our plan of action.
Action Steps for Identifying Your Audience:
1. Nail down your target market. Target Market Example: Contractors located in the United States that are doing between $500,000 and $20M in revenue annually.

2. Talk to the sales team and establish what a quality lead is. In this case, we know we need 50 Demo Requests each month.
Time Estimate: 2 hours
1. Honestly, this should be something you already know (your target market). But give yourself an hour to talk to a few people inside your company, read through your messaging, and establish who you're really after.

2. Give yourself another hour to talk to a few sales reps or the sales manager at your company. Or potentially, you're talking to the owner or president. Make sure you find out exactly what will be considered a quality lead.

Identify Where Your Audience Lives Online
Once we know who our audience is and what our goal is, we need to locate our audience.Where are they online? You'll want to look at social media, blogs, websites, and forums.Make a big list! Here's what I might do if I were looking for contractors.
First, I'd dive into social media. I know LinkedIn is better for B2B, so I head there first. There are tons of various groups, so I started looking for groups full of my audience. A quick search for "roofers" brings up 38 different groups.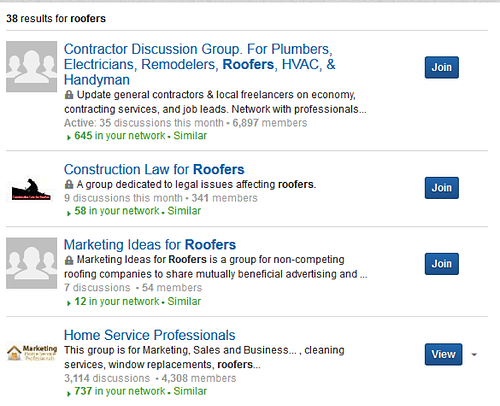 I will continue my search for "HVAC", "plumbers", and "electricians". After spending some time gathering a list, hopefully I've identified at least 25 solid groups that have my target audience.
Next, I'll explore other social media options to see if there is anything industry specific. After spending some time on Google, I run across Houzz, a social network for contractors, builders and remodelers.
Still further, I'll spend some time on Google again looking for blogs, forums and other websites where I might find my audience.
At the end of this research process, you should easily have 50-100 websites (forums, blogs and other websites), groups (on LinkedIn or Facebook) and communities (on Google+) on your list. Now, we're getting somewhere! We're narrowing down the Web and locating the corners in which we want to spend our time and effort.
Action Steps for Finding Your Audience:
Spend time looking at social media, websites, blogs and forums for your target audience.
Create a master list with links to these places.
Time Estimate: 4 hours
Don't shortchange yourself here. Put in the time to locate your audience. This step will serve you well for many inbound campaigns into the future, so spend about four hours doing your research.
Create the list as you go along.

Identify Pains, Problems, Questions
Ok, just to re-cap.
We now know:
Our goal

Who we're targeting

Where they live online
Now, it's time to dig for pain. As you're doing your research and visiting groups, websites and blogs with your audience, start listening. What does that mean, really? How do you listen? What are you listening for?
What you want to do is listen to the problems that your audience is expressing.You want to write down the questions they are asking. Write down the things they are complaining about. You want to be able to speak their language.
You'll start to see different discussion questions, comments on blogs, or frustrations.Here are a few sample discussion topics I pulled from a LinkedIn Group full of roofers.
Obviously, you want to identify challenges and pains around the product or service you offer, but sometimes you can get some really powerful insight just by writing down any common questions or problems. You'll start to see some trends.
As you'll see in the next section, we want to use these questions, pains and problems in our content and messaging.
Action Steps for Identifying Pains, Problems and Questions:
1. Go to 10-20 places on your master list and start copying and pasting your audience's discussions and questions.

Time Estimate: 2 hours
1. This should take you about 2 hours, but don't be afraid to spend 3 or 4 if you feel you're not seeing any trends.

Create a Content Calendar
Alright, now we're ready to create a content calendar. Most people want to rush into this step because it feels like you're accomplishing something. However, this step won't be worth much if you haven't dedicated the time to your research.
Basically, now that we've got a sense for what our audience is dealing with, we can brainstorm some effective blog titles, maybe some webinar topics and definitely some ideas. If we think back to our goal of 50 qualified leads per month, you might be asking, "How many blog articles should I be writing?" or "How many lead generation offers, do I need?"
You can make an educated guess, but this is always the unknown with strategy. (Strategy is a high level plan to achieve one or more goals under conditions of uncertainty) You make the best plan of action you can to achieve your goal, but you'll need to adjust your plan over time depending on how close you are getting to that goal.
Without knowing how much traffic this hypothetical website is getting or how many leads it's currently generating, you'll want to be creating 2-3 blog posts per week. You'll also want to have at least two or three offerrings that you can leverage to capture leads.
In addition, you'll want to create email nurturing campaigns that will move leads down the funnel towards the goal step of a Request. For a quick and effective guide to lead nurturing, check out this document here. It will walk you through the steps of taking a lead and moving it towards a goal like a Demo Request.
Action Steps for Content:
Brainstorm blog topics, or webinar topics.
Map out how many blog articles you'll need to create each week.
Plan your content creation.
Plan your lead nurturing sequences.

Time Estimate: 2 hours
1. Spend 1 hour brainstorming topics and titles.
2. 15 minutes for mapping out your blog calendar.
3. 20 minutes for planning out your e-books.
4. 20 minutes mapping out your lead nurturing sequences.

Create a Promotions Plan
Your promotions plan is just as important, if not more important that your content plan . Most marketers feel like once they hit "publish", it's time to start working on the next piece. Not true! Once you hit publish, it's time to go to work promoting that article.
You spent time writing it, editing it, finding an amazing photo and placing a relevant call to action. Now, it's time to zero in on our audience and share that content with them. This is how we'll drive people back to our content, they'll click on you content, receive your emails and ultimately sign up for a quote or that that demo!
Creating your promotional plan will be much easier now that you've got a master list of where your audience lives. You'll be able to share your blog articles as discussions in exactly the right LinkedIn Groups.
You'll be able to comment on other websites and blogs and reference your content in a super relevant fashion because you know exactly what your audiences challenges and pains are. You'll be able to craft blog titles that are irresistible to your audience because you studied their problems and pains.
Your promotions plan should basically be the time you spend promoting your article to all the places on your master list. It might look something like this:
Blog Title:
5 Project Management Struggles Roofers Face...and How to Solve Them
Promotion:
Create a discussion in all 20 LinkedIn Groups and frame it with the question "What is your biggest project management challenge right now?"

Share article on Twitter using the hashtags #projectmanagement #roofers #contractors #HVAC #plumbers. Rotate hashtags. Schedule 10-20 Tweets over the next 30 days.

Jump into a couple of forums and find the discussions around project management.Add value to the discussion and add a link to the blog post as a reference point.

Find individual contractors on Houzz or other websites and send a personal email with a link to the article.

Send out an email to all current leads in the database and share the article.
So, your promotions plan will have some activity that you'll do every time you create a blog post. Then, for specific topics, you may have additional activities you'll want to add that make sense based on the topic.
Action Steps for Content Calendar:
1. Write out all the possible promotional activities you might have for a specific blog post. Each time you publish, go to that list and execute as many as possible!

Time Estimate: 1 hour
1. Spend an hour brainstorming all the ways you could promote a blog post, e-book or piece of content.

Your Strategy
Phew! There's a lot of work there, but you can do it... and you can do it in less than 24 hours! The total time spent in this process totals 11 hours. Obviously, it would be a long work day to push through these activities, but you'll be setting yourself up for success over the next several months, if not years. If you can't block off an entire day to do this, spend a couple hours each day for a week and you'll be all set.
Your goals and strategy will change over time, but I wanted to break down a very simplistic way to create a strategy quickly and start moving forward.
Just to re-cap what you need to do:
1. What is your goal?
2. Who are you targeting?
3. Where do they live online?
4. Develop your content calendar.
5. Create a promotional list.

I'm curious... how much time do you spend on research before diving into content creation?